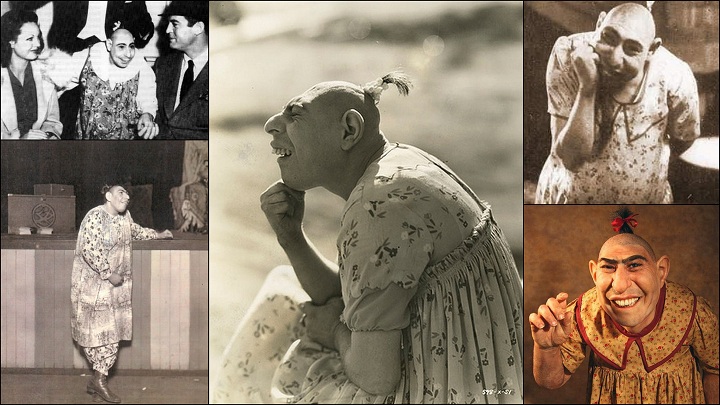 Schlitzie, possibly born Simon Metz , and legally Schlitze Surtees , was a American sideshow performer and occasional actor, best known for his role in the 1932. movie Freaksand his life-long career on the outdoor entertainment circuit as a major sideshow attraction with Barnum and Bailey, among others.
Schlitzie's true birth date, name and location is unknown; it is commonly accepted, at least by what was inscribed on his death certificate , that he was born on September 10, 1901 in New York,
though 1892 has also been considered as a possibility.
Schlitzie was born with microcephaly, a neuro developmental disorder that left him with an unusually small brain and skull, a small stature (he stood about four feet tall (122cm)),myopia and moderate to severe mental retardation. It was said Schlitzie had the cognizance of a three year-old: he was unable to fully care for himself and he could only speak in monosyllabic words and form a few simple phrases. However, he was still able to perform simple tasks and it is believed that he could understand most of what was said to him, as he had a very quick reaction time and the ability to mimic. Those who knew Schlitzie described him as an affectionate, exuberant, sociable person who loved dancing, singing and being the center of attention, performing for anyone he could stop and talk to.
On the sideshow circuit, microcephalics were usually promoted as "pinheads" or "missing links", and Schlitzie was billed under such titles as "The Last of the Aztecs", "The Monkey Girl" or simply"What Is It?", or was paired up with other microcephalics. One notable example of the latter was Schlitzie's possible pairing with a microcephalic woman named Athelia, exhibited together as "Aurora and Natalia, the Aztec sisters". This has led to claims that Aurora actually was Schlitzie's sister, but these claims are unsubstantiated.
Schlitzie was often presented as a female or left androgynous to add to the mystique of his odd appearance. Those who knew him alternately referred to him as "he" and "she". The sideshow circuit was a tremendous success for Schlitzie, and throughout the 1920s and 1930s, he was employed by many upscale circuses. In 1928, Schlitzie made his film debut in the The Sideshow, a drama that took place at a circus, featuring a variety of actual sideshow performers including himself. In 1932, Schlitzie landed his most known role as an actor in Tod Browning's iconic horror film Freaks.
The appearance of Freaks' cast proved extremely controversial on its original release, and the film was ultimately a financial failure. Additionally, it was banned for thirty years in the United Kingdom and Browning struggled to find work following its release, his last with a major studio.
In 1935, while Schlitzie was performing with the Tom Mix Circus, George Surtees, a chimpanzee trainer also appearing at the show with a trained chimp act, adopted him, becoming Schlitzie's legal guardian.
In 1941, Schlitzie appeared in his final film role as "Princess Betsy"
.
Under the care of Surtees, Schlitzie continued performing the sideshow circuit until Surtees' death in the early 1960s, after which Surtees' daughter, who was not in show business, committed Schlitzie to a Los Angeles county hospital.
Schlitzie remained hospitalized for some time until he was recognized by sword swallower
Bill Unks, who happened to be working at the hospital during the off-season. According to Unks, Schlitzie seemed to miss the carnival dearly, and being away from the public eye had made him very sad and depressed. Hospital authorities determined that the best care for Schlitzie would be to make him a ward of Unks' employer, showman Sam Kortes, and return him to the sideshow.
On September 24, 1971, at the age of 70, Schlitzie died from bronchial pneumonia at Fountain View Convalescent Home. His death certificate listed his official name as "Shlitze Surtees" and his birth date as 1901. Schlitzie's grave remained unmarked until August 2008, when members of the website www.findadeath.com raised almost $400 to purchase him a proper headstone, which displays his name as "Schlitze Surtees" and his birth date as September 10, 1901.